MNetMon...
Application Description
MNetMon is based on a very simple concept. Because the RS-232 electrical protocol operates using a, (voltage level), active transmitter connected to a passive receiver, it's generally possible for a second receiving device to tap into and "listen" to the transmitted characters without interfering with the conversation between to orignal devices. By using two comm ports on the eavesdropping machine, both sides of the link may be monitored. This technique has been used for years, (and is the basis for WinTECH Software's Listen & Listen32 Serial Data Link Monitors).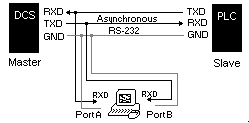 MNetMon is designed to monitor an active Modbus communications link, capture all data points requested by and transmitted to the master, and make this data accessible to other devices connected via a TCP/IP network. In so doing, MNetMon allows the data to be distributed, (in Read-Only form), to multiple client applications seamlessly and without effecting the original modbus link. Now, anyone connected to the PC network has immediate access to the data.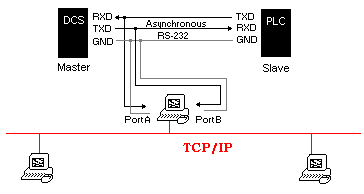 MNetMon operates as a network server application according to the modbus/TCP, (Modbus API standard for network communications), protocol. Multiple simultaneous network connections are supported to any network device operating as an modbus/TCP client. (Such as ModScan32 or similar Windows applications including those custom Visual Basic applications generated using WinTECH's modbuss OCX.)

Last Updated: April 19, 1998
Copyright © 1998, WinTECH Software


Download MNetMon.