ModScanCE...
Application Description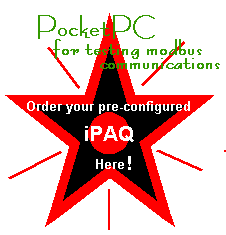 Put the full power of the Windows Operating System in your shirt pocket and take it to the factory floor for testing and programming modbus devices. ModScanCE utilizes the same "look and feel" of it's Win32 counterpart to allow you to easily connect and scan data from modbus slaves. You may use a direct serial or IR connection to very quickly determine if a particular slave device is operational or not without dragging it into a repair shop for testing. Just bring out the PocketPC, do a quick connect, and PRESTO, you have instant access to all it's data. Many technicians have come to rely on the ModScan32 Windows application for testing and troubleshooting modbus devices. Now, with the release of Windows CE 3.0, the PocketPC and ModScanCE provide many of the same capabilities in a much smaller, less expensive package.
ModScanCE is a Windows CE application designed to operate as a MODBUS Master device for accessing data points in a connected PLC compatible slave device. It is designed primarily as a testing device for verification of correct protocol operation in new or existing systems. MODBUS data points, coils and registers, may be read and/or written from the ModScanCE application using MODBUS Commands 01-06. The basic operation of the application is depicted in the two screen shots below: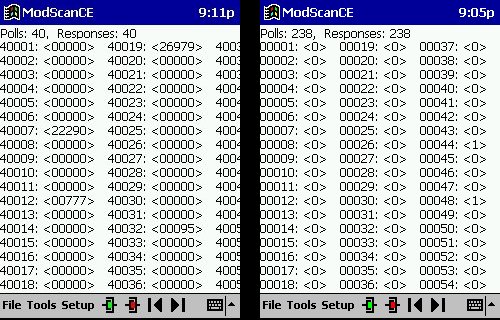 The specified MODBUS slave device is polled by the ModScanCE application on a cyclical basis specified by the user. Any address supported by the device may be scanned and the associated values listed on the bottom of the display. Communications errors or Exception Responses returned by the slave device are listed on the ModScanE status line. Writing a specific data point is as simple as double-clicking an address/value combination and entering the desired value in a pop-up dialog.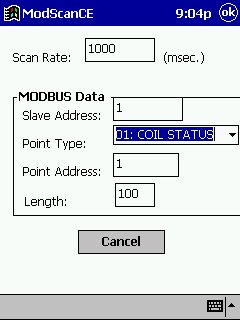 Menu options allow register values to be displayed in a variety of formats. Both RTU and ASCII transmission modes are supported, and any available COM port may be used, including the IR port.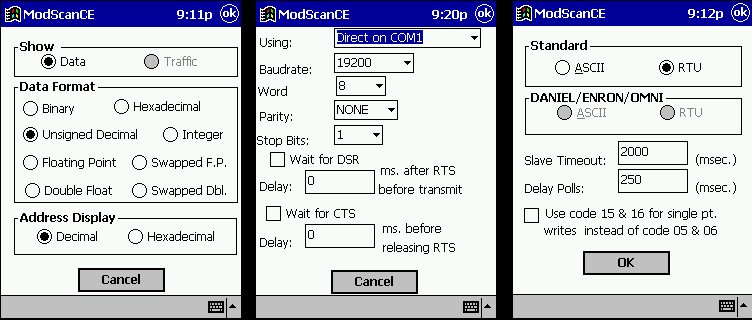 Last Updated: July 25, 2000
Copyright © 2000, WinTECH Software


Download ModScanCE.