OPCtoDDE...
Application Description
OPCtoDDE provides a convenient link between data contained in an OPC Server and an Excel spreadsheet. Using OPCtoDDE, you can easily access OPC data items from Excel without generating any Basic code. OPCtoDDE utilizes existing DDE technology contained within Excel, to provide live links with OPC. As data changes, items in the spreadsheet will automatically be updated.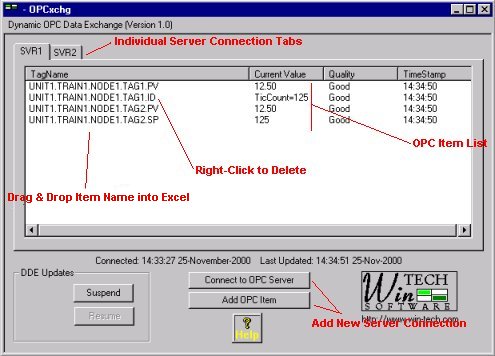 To establish a link between Excel and any OPC Server, first establish a connection between OPCtoDDE and the designated Server by pressing the "Connect" button. OPCtoDDE will allow you to pick from a list of available servers installed on the local or remote machine. Add items by browsing tag names from a connected server and cut & paste the DDE references into Excel. Highlighting an OPC item name in the OPCtoDDE list control will copy the DDE Topic identification into the Windows Clipboard where it can then be pasted directly into an Excel cell. After a brief negotiation period, the item's value will automatically be updated in the spreadsheet.
Download OPCtoDDE Demo


Last Updated: November 28, 2000
Copyright © 1995,96, WinTECH Software Design


Download OPCtoDDE.